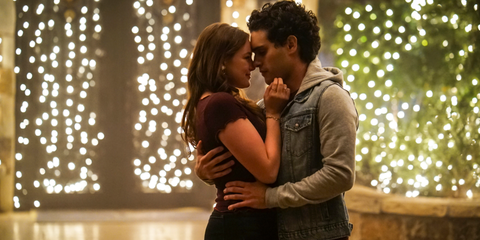 Coming up with the perfect date can be hard, especially when you're strapped for cash. It may feel like you need to spend a lot of money to have fun and impress your date, but that's def not the case. If you're willing to think outside of the box, there are a ton of cheap date ideas for teens that won't break the bank. Whether it's summer or winter, chances are your town has a bunch of free or inexpensive events that you can enjoy with your bae and if you're not feeling like heading out, there's a lot you can do at home, too. Making s'mores while binge-watching that new Netflix show people can't stop talking about is my idea of a good time and probably your crush's, too. If you need a little help planning the perfect meet-up and don't want to go broke doing it, then pick your next date from this list of the best cheap date ideas for teens.
1 of 48
Plan an Ice Cream Date
Dessert is never a bad idea. Go out and grab some ice cream together. It's way cheaper than opting for a dinner date, but just as satisfying.
2 of 48
Find a DIY YouTube Tutorial to Try
Whether it's step-by-step instructions for a painting or how to create your own key chain, find a project on YouTube you both enjoy and flex your arts & crafts skills with each other.
3 of 48
Go to a Food Festival
Food festivals are the best. You can pick up a ton of little bites for relatively cheap prices and they happen year-round. Research if there's any food events in your area and go ahead and plan your next date.
4 of 48
Play a Sport
Head outside and see if you can get a two-person game going. Some sports that might work are frisbee, volleyball or one some one-on-one basketball.
5 of 48
Make S'mores
Spend a cozy night by the fire or over a stove making some chocolatey treats. The ingredient list is pretty simple so don't worry about being strapped for cash.
6 of 48
Go Fruit-Picking
Not only is fruit-picking fun, but it also provides the perfect backdrop for cute selfies. Plus, you can use all the fruit you gather as an excuse to meet up again and bake something.
7 of 48
Go See a Play
You don't have to make it to broadway to see some live action. Just get some tickets to a local production. They're typically inexpensive so you don't have to worry about breaking the bank.
8 of 48
Karaoke Night
If you're not afraid to get silly, prepare a list of you and bae's favorite songs and set up a microphone. You can turn it into a group date by inviting some of your other friends over.
9 of 48
Play in the Snow
If it's wintertime, bundle up and go outside for some fun in the snow! Have a snowball fight or go sledding. Who doesn't love a snow day?
10 of 48
Go Ice Skating
See if your town has a local ice skating rink open in the winter. You can usually rent skates for pretty cheap and then they let you hop on the ice for free. Plus, if you're scared of falling, just hold on to bae a little tighter!
11 of 48
Make a Time Capsule
Freeze your relationship in the moment with a time capsule! It will be super fun to go through pictures and memories when you're making it, and even more fun when you open it up in the future!
12 of 48
Go Bowling
It sounds super cheesy, but bowling is a classic date for a reason. It's not too expensive, you can show off your competitive side, and then you can celebrate a win with some fries and chicken fingers. Yum!
13 of 48
Go Fishing
Get down and dirty and go fishing at a local river. Plus, you can try to cook your catch for dinner, if you're really feeling ambitious.
14 of 48
Have a Two Person Bookclub
Do you both love to read? Read the same book and then get together and discuss it. Grab some snacks and meet at a coffee shop or in the park and make a date out of it! It's so much more fun reading a book when you can bond with bae at the same time!
15 of 48
Go Canoeing
Taking a canoe on the water is actually super relaxing. Plus, you'll be able to enjoy the wilderness while getting to know bae better.
16 of 48
Go Thrifting
Get some great deals and have some fun trying on vintage clothes with your date! Either check out local thrift stores, or hit up a fair in the neighborhood. Your guaranteed a day of fun.
17 of 48
Paint Together
Grab some paints and get creative! Even if you're not artistic, you'll have so much fun painting together.
18 of 48
Go to an Animal Shelter
Play with puppies for free! Seriously, have you ever heard of a better date?
19 of 48
Do a Puzzle
It sounds super cheesy, but puzzles are actually super fun and they're a great bonding activity! Get to know each other better as you solve the puzzle.
20 of 48
Go to a Museum
Take in some culture at your local museum. Many museums are pay as you wish, so they just expect a small donation, and others will let students in for free!
21 of 48
Go to an Arcade
Have some fun at an arcade with bae! Play video games and foosball all night long.
22 of 48
Have an At Home Spa Day
Grab some cucumbers and your favorite face mask and relax with your S.O. There's nothing like some face mask selfies to really solidify a relationship.
23 of 48
Go to the Carnival
Have some fun at the carnival with your date! Share a funnel cake, or jump on the ferris wheel. There's nothing more romantic than kissing at the top!
24 of 48
Go Mini Golfing
Another cheesy one, but you'll have so much fun with your date playing mini gold on a nice night.
25 of 48
Do a Photo Scavenger Hunt
Come up with a list of photo subjects, like:
– Snap a pic of something that inspires you
– Take a picture of an animal
– Capture a color you really love
– Take a food photo
Then, set out with your date and try to snap as many pics as possible off the list. At the end of the date, sit down at a cafe and go through your photos.
26 of 48
Go Indoor Rock Climbing
Do you and your date want to do something physical but the weather is less than ideal? Then move indoors for an awesome rock climbing session.
27 of 48
Seed Bomb a Special Spot
Do you both love nature? Well, claim your own special piece of soil and seed bomb it. Just grab some seeds from a local plant or hardware store. Then, pick a special spot (maybe it's along a hike you've taken) and plant some seeds there. Then, you can have future dates to check up the seedlings and watch them grow.
28 of 48
Explore
Pick a nearby town or city and go explore. Window-shopping doesn't cost a cent and you're bound to stumble across cool local gems.
29 of 48
Grab Bubble Tea
It's a yummy twist on your classic coffee date.
30 of 48
Skateboard
If your bae has a skateboard (or rollerblades, or even a pogo stick) lying around, you won't be bored. It doesn't matter if you've ever skated before — learning from each other can be half the fun.
Advertisement – Continue Reading Below
This content is created and maintained by a third party, and imported onto this page to help users provide their email addresses. You may be able to find more information about this and similar content at piano.io
This commenting section is created and maintained by a third party, and imported onto this page. You may be able to find more information on their web site.
---
Advertisement – Continue Reading Below
---
---
---
---
---
---
---
All Readings Are For Educational & Informal Uses Only Recommendations